Publications
Since the Society of Archer-Antiquaries principal purpose is the study of all aspects of the history of the bow and arrow, many varying articles, illustrated and prepared by specialist members, appear within the annual Journal [ members only ] Some subjects covered have been:
Ainu archery. Amerindian bows. The English war-bow. Tudor longbows. Korean archery. Early archery societies. Crossbow construction. Japanese archery. Mongolian archery. Arrows of Africa. Medieval arrowheads. Incendiary arrows. Recreational arrows. Bow and Pike. Persian archery. Chinese archery. Thumb rings. Pre-historic archery. European crossbows. Performance data.
Some examples of past Journals and their contents are shown below for your interest.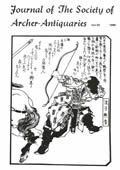 Vol 33. 1990
The Bow in the British Army by Howard L. Blackmore
Notes on the Crossbow Spanning Bench by Arthur.G.Credland
An Archery Song from Gloucestershire by H.D.Soar
Archery Release Aids: evolution & revolution by Gilbert.J.Frey
A Hinged Carriage Longbow Described by H.D.Soar
The Oriental Thumb-ring by Douglas Elmy
Some Notes on Antique Archery Arm-Guards by H.D.Soar
The Crossbow & the Law from the Dark Ages to the Present by Arthur G.Credland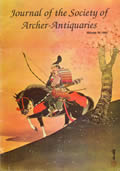 Vol 38. 1995
Woods used in Egyptian Bows & Arrows by W.McLeod
Chu-Ko-Nu: the Manchurian Repeating Crossbow by Geroge.G.Vitt Jnr.
Archery in Scotland by Hugh D.Soar
Bows used by the Huns by Achim Boie & H.D.Bader
The origins of the Angular Bow by D.Betteridge
A Note on the Archery Tradition of the Tanjavur Maratha Kings by K.I.Koppedrayer
Those so-called Arrow Straighteners by Alf Webb
Italian Bronze Age Fragments by Franco di Donato
The Archer's Tassel by Edward Hart
The Eagle Bowmen & Popinjay Shooting in England & Scotland by Arthur G.Credland
The Bow in the Mythology of the Dolomites by Alessandor Manfroi
Archery in Early medieval Scotland by Craig Cessford
The Omnogov bow by Wayne Alex & G.Menes
The White Lady of the Leopard Gorge by Wolfgang Bartl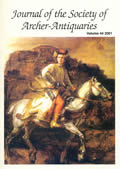 Vol 44. 2001
Experimental Drag measurements on Crossbow Bullets by R.Middleton & J.R.Wiggins
Notes on Cranequin Making in the Late 15th Century by W.E.Flewett
A Bow from Northern India by Adam Karpowicz
The Bow in Poland by Andrzej Abratowski
Some Thoughts on "Nestroque" - an Agincourt Battle Command ? by Greybeard
Archer-Automata by W.E.Flewett
Military Archery & the Inventory of King Henry VIII by Jonathan Davies
Some notes upon Archer References in the Ballads of Robin Hood by Hugh D.H.Soar
Persian Archery Texts by Edward McEwen
The Queens Royal St Leonards Archers by Sophie Houlton
An Accessory for the Crossbow by W.E.Flewett
The Arundel Archive of Arrows & Arrowheads by Janet Gendall
Histories of the Societies which participated in the General Meetings at Blackheath & Dulwich 1789-1795 by Arthur G.Credland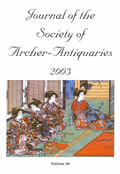 Vol 46. 2003
Japanese Archery & Archers by E.Gilbertson
Turkish Bows, Arrows & Quivers in the Badisches Landesmuseum, Karlsruhe, Germany by Jens Senfelder
Indoor Archery Sets Compared by Hugh.D.H.Soar
Hedgehog Quill Fletchings - a Warning for Future Researchers by Claude Blair
The Royal Surrey Bowmen 1790-1795 by Arthur G.Credland
Bowstring materials by Robert W.Halpin
The Royal Southampton Archers 1789-1794. and Southampton & New Forest Archery Club 1830-1840 by Arthur G.Credland
Scythian-style Bows Discovered in Xinjiang by Bede Dwyer
Hunting in the Medieval Arab World with Bows & Arrows, Lances, Nets, Raptors & Predators by Terence Clark
Lakota Archery Games as Documented at the Buechel Memorial Musuem, St. Francis, S.Dakota by Kay Koppedrayer
The Treating of Prince Henry's Arrow Wound 1403 by Hector Cole & Tig Lang
Book Review of Al Mansur's Book on Hunting by Arthur G.Credland
Some back numbers of the Journal are available for purchase by members. These are listed in Arrowhead.
With the kind assistance of the Royal Armouries, Leeds, past Journals numbers 1 to 45 have been produced on two Compact Discs. These will be sent to members who make a donation to the Society of £15 or more. An accompanying index disc is available for £7.50 incl. P & P
The Journal is supplemented three times per year by "Arrowhead", a news booklet, containing shorter articles and snippets of archery interest plus useful admin information.